Unlocking the Potential of Your FSA: A Guide to Wise Eye Health Investments
As we approach the end of the year, it's crucial to maximize your Flexible Spending Account (FSA) dollars. In this blog, we'll share expert tips on how to wisely allocate your FSA funds to prioritize your eye health. And if that's not incentive enough, we'll introduce you to the Varilux XR BOGO offer, making your investment in eye health even more rewarding!
Flexible Spending Accounts (FSAs) are a valuable resource for managing your healthcare expenses. Many people aren't aware of all the ways they can utilize their FSA funds, especially when it comes to eye care.
Tip #1: Schedule Your Eye Exam
The foundation of good eye health is regular eye exams. Use your FSA funds to schedule an eye exam if you haven't had one this year. An eye exam can detect vision issues, eye diseases, and other health conditions early, helping you maintain optimal eye health.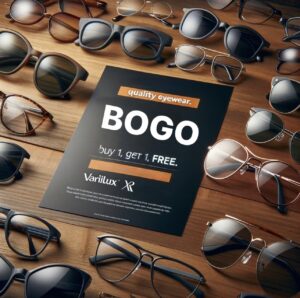 Tip #2: Invest in Quality Eyewear
Consider using your FSA dollars to upgrade your eyewear. High-quality glasses or
contact lenses can enhance your vision and comfort. The Varilux XR BOGO offer allows you to buy one pair and get one free – making it an excellent opportunity to enjoy premium lenses and savings!
Tip #3: Address Dry Eye
If you suffer from dry eye syndrome, don't ignore it. FSA funds can be used to cover dry eye treatments, including innovative solutions like Intense Pulsed Light (IPL) therapy or Tear Care. Treating dry eye not only improves your comfort but also contributes to overall eye health.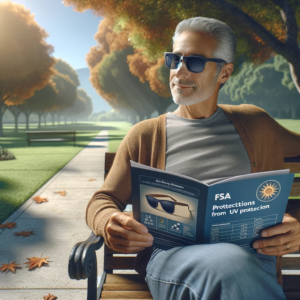 Tip #4: Protect Your Eyes
Don't forget about eye protection! Sunglasses with UV protection are essential to shield your eyes from harmful sun rays. Plus, they can be FSA-eligible. Protecting your eyes year-round is crucial in preventing conditions like macular degeneration and cataracts.
Tip #5: Plan for Future Needs
If you have funds remaining in your FSA toward the end of the year, consider planning for future eye care needs. Think about purchasing a back-up pair of prescription glasses or contact lenses, or explore vision correction options like LASIK.
By following these expert tips, you can make the most of your FSA d
ollars and prioritize your eye health. And
with the Varilux XR BOGO offer (Buy One, Get One), you'll enjoy exceptional vision while saving on premium lenses. Don't let your FSA funds go to waste – invest in your eye health today!
Remember, your FSA isn't limited to eye care alone. It can also be used for various healthcare expenses like dental work, orthopedic supports, and more. Be sure to check your FSA guidelines to explore all the ways you can benefit from it before the year ends.
Your health and well-being are worth the investment!