Comprehensive Eye Exam
Personalized eye care, comprehensive vision services, and early detection of eye conditions using advanced equipment. From general eye exams to pediatric care and specialized treatment, prioritize your eye health and well-being with our expert guidance.  Call to make an appointment today.
At Elite Eye Care, we are dedicated to providing exceptional eye exams and personalized vision care services to the communities of Asheville, Arden, and Fletcher.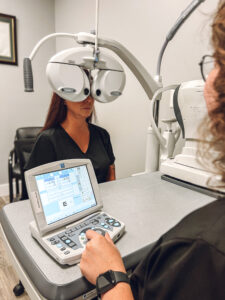 Regular eye exams are a fundamental aspect of maintaining overall eye health, and we emphasize their importance to our patients. We recommend different frequencies of eye exams based on age groups, as early detection and prevention play a vital role in identifying potential eye conditions and ensuring optimal vision. Our state-of-the-art equipment, including Optomap, Marco's Epic Refractive System, and iVue OCT, enables our experienced optometrists to conduct comprehensive eye exams, allowing us to assess eye health with exceptional precision and accuracy.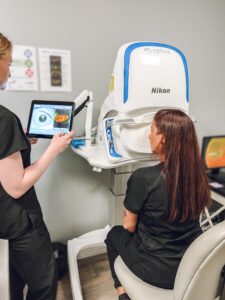 Pediatric eye care is a significant focus at Elite Eye Care. We understand the critical role vision plays in a child's learning and development. Early eye exams are essential for detecting and managing common childhood eye conditions, ensuring that children have the best possible vision for academic and daily activities. We differentiate pediatric eye exams from standard vision screenings to provide a more comprehensive evaluation of a child's visual health.
In addition to general eye exams, we specialize in the treatment of various eye conditions and diseases. Our experienced team is well-equipped to manage conditions such as glaucoma, cataracts, dry eye syndrome, macular degeneration, and diabetic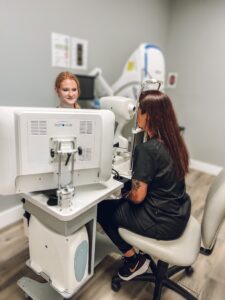 retinopathy. Early detection and intervention are key factors in preserving vision and managing these conditions effectively. Our commitment to staying updated with the latest advancements in optometric technology allows us to provide the most advanced treatment options to our patients.
At Elite Eye Care, we prioritize maintaining good eye health through educating our patients about essential eye health habits and lifestyle factors. We provide guidance on maintaining a healthy diet, protecting eyes from harmful UV rays, and adopting proper eye hygiene practices. Our comprehensive approach to vision care extends beyond correcting refractive errors; it focuses on preserving and enhancing the long-term health and function of our patients' eyes. By emphasizing the significance of regular eye exams and preventive measures, we strive to ensure that our patients enjoy a lifetime of optimal vision and overall well-being.