Our Team:
Christine – Patient Concierge
Christine Dorn is our dedicated Patient Concierge, ensuring that each patient's experience at our clinic is nothing short of exceptional. Originally from Texas, Christine made the move to our area by way of Florida when her children started school, and she has been an invaluable asset to our team ever since.
Before joining our clinic, Christine had a successful career in merchandising, showcasing her keen eye for detail and her ability to create visually appealing displays. Additionally, she attended Tyler Junior College in Texas.
As a devoted mother, Christine also spent several years as a stay-at-home mom, devoting her time to her children's growth and well-being. During this time, she actively engaged in volunteer work and made a significant impact in the school community.
One of Christine's passions lies in her love for plants. Her happy place is her porch, adorned with a beautiful array of plants that she nurtures with care. She finds inspiration in acts of kindness, believing in the power of spreading positivity and making a difference in people's lives.
Christine's motivation stems from her strong work ethic and the success of her children, who have excelled academically and artistically.  She takes pride in their accomplishments and strives to instill these values in her daily work.
Outside of her professional endeavors, Christine thoroughly enjoys entertaining friends and family in the comfort of her home, creating memorable experiences for her loved ones.
With her warm demeanor and dedication to patient care, Christine is an integral part of our team, ensuring that every patient feels welcomed and cared for throughout their journey with us.
---
Patricia Baer – Patient Coordinator
Patty Baer is our dedicated Patient Coordinator, bringing her wealth of experience and passion for serving others to our clinic. With a background in teaching and leasing management, Patty's diverse skill set and strong work ethic make her an invaluable asset to our team.
Patty's professional journey began as a preschool teacher at Carolina Day School, where she nurtured young minds and created a positive learning environment. Prior to that, she served as a leasing manager at an apartment complex, showcasing her organizational and interpersonal skills.
After her time in teaching and leasing management, Patty took on the role of caring for her grandson in Atlanta, a role that she wholeheartedly embraced. Her love for family and her strong faith have always been at the core of her life.
With a degree in marketing from Western Carolina University, Patty brings a unique perspective and a keen eye for detail to her role as Patient Coordinator. She is passionate about providing exceptional customer service and ensuring that each patient's needs are met with the utmost care.
Outside of her professional pursuits, Patty finds joy in gardening and needlepoint, allowing her creative side to flourish. She also enjoys knitting and has a deep love and respect for all living creatures. Patty's compassion extends beyond humans, as she takes pleasure in feeding and caring for birds.
Inspired by her strong work ethic and motivated by her desire to always give her best, Patty strives to make a positive impact on those around her. She places a high value on serving others and putting their needs before her own.
Patty's dedication, warmth, and genuine care for others make her an integral part of our team, ensuring that each patient feels valued and well taken care of during their experience with us.
---
Kirsten McCarthy – Technician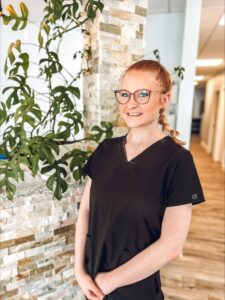 Kirsten McCarthy is a valued member of our team, serving as a dedicated Technician. With a diverse background and a drive for personal growth, Kirsten brings a wealth of experience and a strong work ethic to her role.
Born and raised in Hendersonville, Kirsten attended West Henderson High School before briefly studying at Wingate University. Prior to joining our clinic, she gained valuable experience working as a sales associate at Old Navy and as a physical therapy technician.
Driven by her passion for optometry, Kirsten is currently in the process of becoming a certified optometric technician. Her commitment to ongoing professional development reflects her desire to provide the best possible care for our patients.
Outside of work, Kirsten finds joy in spending quality time with her daughter, Emersyn. Whether it's taking trips to the park or enjoying their favorite TV shows together, their bond is a constant source of inspiration for Kirsten.
Motivated by the desire to continually learn and grow, Kirsten embraces the challenges and opportunities that come her way. She thrives on the ability to overcome obstacles and achieve personal success, empowering her to take on new responsibilities with confidence.
Kirsten's dedication to excellence, coupled with her independent spirit, make her an invaluable asset to our team. Her commitment to providing exceptional patient care and her unwavering drive for self-improvement contribute to creating a positive and fulfilling experience for all who visit our clinic.
---
Marissa – Technician
Marissa Gehring is a valued technician at Elite Eye Care, bringing her expertise and passion for all things ocular. With almost four years of experience at our practice, Marissa has made significant contributions to our team. Before joining us, she had a diverse professional background, including work in retail, private nanny services, and certification as a medical assistant. Although she hasn't quite figured out what she wants to be when she grows up, Marissa finds utmost happiness in the medical field, particularly in the fascinating realm of eye care.
Marissa obtained her Medical Assistant Certification from Eastern Virginia Career College in 2010, and she remains committed to staying up to date with the latest advancements in her field. She actively participates in continuing education courses at Blue Ridge Community College, ensuring that her skills and knowledge are current and relevant.
When she's not immersed in her work, Marissa dedicates her time to wrangling her three beautiful children alongside her husband, Michael. She finds joy in traveling, indulging in online shopping adventures, and observing people in everyday life.
Marissa Gehring's dedication to her role as a technician at Elite Eye Care, her ongoing pursuit of knowledge, and her diverse experiences contribute to the exceptional care and service we provide to our patients.
---
Jennifer Hibbs

---
Tommy Rich -Licensed Optician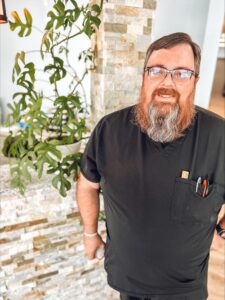 Tommy joined the Elite Eye Care team in June of 2021, bringing with him over 20 years of experience in the eye care industry. Before joining us, he spent over 13 years managing various corporate optical establishments across North Carolina. His wealth of expertise and passion lies in patient education and training the next generation of eye care professionals.
Originally from Greensboro, NC, Tommy is a proud graduate of High Point University, where he earned a B.S. in Chemistry and Mathematics in 2001. He then embarked on a journey at the Southern College of Optometry for two years, but his true passions led him down a different path within the field. In 2007, he graduated with honors from Durham Technical Community College, obtaining an AAS in Opticianry. Tommy holds several certifications, including ABO Certified Optician, NCLE Certified, and Certified Paraoptometric Assistant. Currently, he also serves as a board member on the NC State Board of Opticians.
In his downtime, Tommy finds joy in playing sports, indulging in LEGO building, watching movies, hiking, traveling, and even zoo wrangling with his partner of 17 years, Heather. Together, they proudly care for their furry and four-legged family members, including three cats (Abe, Frieda, and Grover), two wiggly dogs (Luna and Bruce), and two horses (Flow and Bird), who keep their lives both interesting and exciting1
---
Raven – Office Administrator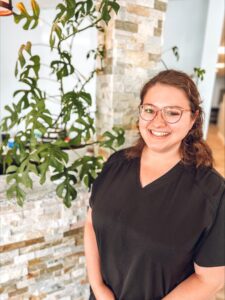 Raven, a valued member of the Elite Eye Care team since November 2018, brings a diverse background and a passion for serving others. Before joining our practice, she gained experience in the food industry while pursuing her education.
Raven holds an Associates in Science degree, which she earned alongside her high school diploma from AB-Tech Early College. She takes pride in actively engaging with her community and has dedicated her time to working with children at Biltmore Church.
When she's not assisting patients, Raven indulges in her personal hobbies and interests. She finds joy in the art of painting, revels in the tranquility of being outdoors near water, and enjoys discovering new culinary experiences. Additionally, she delights in attending concerts with her husband, creating cherished memories together.
Raven finds true beauty in the knowledge that she has the privilege of helping people improve their vision every single day.
At Elite Eye Care, Raven's dedication, diverse background, and passion for making a positive impact come together to ensure our patients receive exceptional care and support.
---
Jennifer Spearman – Insurance Specialist
Jennifer is our  our dedicated insurance specialist and a cherished member of the Elite Eye Care family. Not only does she excel in her role, but she also happens to be Dr. Perry's mother-in-law, adding an extra layer of familial connection to our team.
Jennifer holds the distinction of being our longest-standing employee, having been by Dr. Perry's side for an impressive 12 years. Prior to joining our practice, Jennifer spent an incredible 25 years as an X-ray technician in a private orthopedic surgeon's office, bringing a wealth of experience and expertise to her position.
Jennifer is an alumna of Greensboro College.  Outside of work, Jennifer finds joy in spending quality time with her friends, whether it's a delightful lunch outing or an exciting trip together. She also treasures the opportunity to help her family and create beautiful memories with her beloved grandchildren.
At Elite Eye Care, we value Jennifer's dedication, experience, and the warmth she brings to our practice. Her unwavering commitment to providing excellent service ensures that our patients receive the care they deserve.
---