The Gift of Clear Vision: FSA, Varilux XR BOGO, and You

The holiday season is approaching, and it's the perfect time to unwrap the gift of clear vision. By harnessing the power of your Flexible Spending Account (FSA) and taking advantage of the Varilux XR BOGO offer, you can make this holiday season truly special.
Maximizing Your FSA: Use It or Lose It
FSA dollars are a valuable resource, but they don't carry over from year to year. As the year-end approaches, now is the opportune moment to put those funds to good use.
Eye Exams for the Whole Family

Consider utilizing your FSA to cover the cost of comprehensive eye exams for both yourself and your loved ones. Ensuring everyone in your family has clear, healthy vision is a gift that keeps on giving.
Elevate Your Eyewear
Your FSA can also be your ticket to high-quality eyewear. With the Varilux XR BOGO offer, you can acquire a second pair of lenses at no additional cost. It's the perfect opportunity to upgrade your eyewear collection and experience crystal-clear vision.
Soothing Dry Eyes
Don't let dry eye syndrome dampen your holiday spirits. Use your FSA to explore treatments like Intense Pulsed Light (IPL) therapy, a groundbreaking solution for addressing dry eyes.
Shielding Your Eyes from Winter Rays
Winter may bring colder temperatures, but harmful UV rays are still a concern. Invest in FSA-eligible, top-notch sunglasses to safeguard your eyes during winter activities, and keep your vision pristine.
Planning Ahead for the New Year
If you find yourself with remaining FSA funds, consider planning for future eye care needs. By doing so, you'll be taking proactive steps to maintain your vision's health in the coming year.
In Conclusion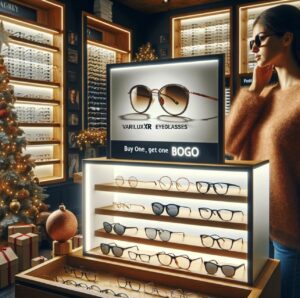 This holiday season, treat yourself to the invaluable gift of clear vision. Maximize your FSA funds and make the most of the Varilux XR BOGO offer. The result? A brighter, sharper outlook on life as you step into the new year with confidence.