If you're hungry – you can't do anything well. Even "take" an eye exam.
I am an eye doctor. All year long, I get requests to give free eye exams. To give free glasses. To go on mission trips. I am passionate about eyeballs. But a little girl in a local mountain school district has turned my philanthropy upside down.
You see, I recently heard a story of a little girl that couldn't focus at school. She was asked what was wrong and she said, (and let me capitalize this for emphasis so that you can really be smacked in the face with this reality), "I AM HUNGRY BUT ITS NOT MY WEEK TO EAT." Her week? She said her week! No.food.this.week.  Does that pull on your heart strings? It does on mine. I can give eye exams for free. I can give glasses for free. But if your basic needs can't be met, you don't even have the energy to make it through my door.
A patient of mine told me that story. She is affiliated with Trinity of Fairview's food pantry. She loaded up that school principal's truck with food for kids like that little girl. And thus, I am throwing myself into the internet with this passionate plea: help me help her. Buying cans can have more of an impact than you realize! I know you're bombarded with donation requests at the end of your grocery store trips… but please: let all the weeks be her week to eat. ~ Dr. Haley Perry
12/3/2018 Edit:  This story has brought forth so much joy in giving.  A different patient told us that she collects coats for the 250 children in Transylvania county that do not have home addresses because they live in tents in the woods!  Thus, we will also be collecting coats this holiday season!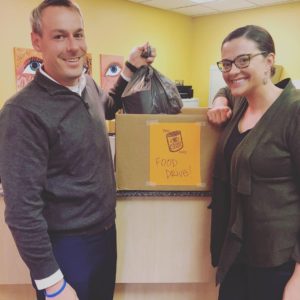 Elite Eye Care on Airport Rd. in Arden, will be taking donated food until the week of Christmas Day to be donated to Trinity of Fairview and their affiliate Manna Food Bank, which serves Western North Carolina and the greater Asheville area.  Patients that bring at least 10 cans of donated food items will receive a credit on their account for free optomap images.